Recently I've been giving a lot of thought to all the great jazz vocalist that I've met and how grateful I am that I was able to meet so many of the great innovators of jazz song. Now days I think, who's left?  I always think about Nancy Wilson and some great times I've spent with her.  The thing about having met Nancy Wilson is this.........
When I was in college at North Texas State University  ( which has been renamed University of North Texas) I was knowing for doing a lot of local jazz gigs between Denton and the Dallas Fort Worth areas. I had already been singing since age 16 when my high school choir director Robert Sanders added me to his weekend gigs. Now I was booking my own gigs, and hiring my own musicians at age 17,18, 19, 20. I guess I developed a reputation for being the chick to work with. All the young players at UNT wanted to gig so they were all asking little old me. Being a person of integrity, the problem I had was this. If you want to work with a singer, at least be able to tell me that you listen to singers records, know at least a basic repertoire of singer tunes and have done a basic amount of homework for the gig.
Lets face it, at this point in my career I was learning too. A college friend,  trumpet player Freddie Jones had given me my 1st jazz LP ever. I didn't even have a record player at home growing up. Not that we were so poor, my folks just didn't listen to music. At this point, I was blown away by Betty Carter's  "Social Call". Prior to that I was just singing what I had learned in high school from Robert. This  was the beginning of me actually listing, researching and learning all the great jazz vocal  LPs that I could find. On the top of that list,  is that most famous Nancy Wilson & Cannonball Adderley record. I had learned it top to bottom and could sing every song. I loved that record and considered it to be one of my top 10 LP's to take if stranded on a desert island. So, I asked every single musician who called me if they knew the record. When they did not I proceeded to ask, "so what singers do you listen to then?" Nine out of ten of them didn't even listen to singers yet they wanted to do a gig with me. Being a person that operates on a more spiritual level when it comes to music, I felt they were all out of integrity. I'd already heard to many musicians dog singers, and complain about how they hate working with singers even at this young age. So when I learned that they don't even listen to singers I wondered why they wanted to work with one?  Here's the thing. I told them to call me back when they at least learned the Nancy Wilson & Cannonball Adderley record and MAYBE we could talk. (LOL) When I met the few musicians who already knew this record and had other vocal LP's too, I'd call THEM for a gig first.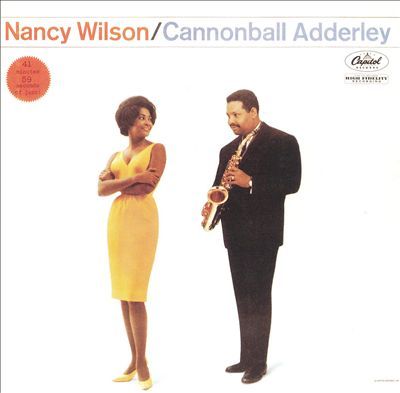 Lets jump to years later when I moved to New York City. It was the late 80's when I started to tour in Japan. For some untold reason Nancy Wilson seemed to always be on tour in Japan as well whenever I was there. She performed a lot at the Blue Note so I would always catch here there. One time I went by and she and her band finished their gig and came to the Body n Soul where I was performing. We all had a jam session. Nancy didn't sing BUT she got on the mic and introduced all of us like an M.C. Her piano player was ____________whom had worked with her for years. The bassist was Maurine _______ whom had also done gigs with me in New York and drummer __________. After saying a few words on the mic, Nancy sat with her manager John Leavy as I proceeded to sing. I wanted to sing something I had learned from her, at the same time that could be a disaster if I wasn't sure of myself. I felt like the band would know her repertoire, but I wasn't about to choose anything like her number one hit, "Guess Who I Saw Today". I called Lush Life. This is a song that I simply love singing. Nancy made me feel so comfortable enough to do it. After all she was hanging out with me. Though it's not a song I would call on any jam session, I was playing with Nancy's trio at this point and they knew the changes. A friend of mine from California, Harvey __________ was sitting at the table with Nancy and Leavy and overheard her say to him, "she can really sing". When he told me later I was really glad. Nancy gave me her address and phone number after that meeting so we could keep in touch. Sure I made a few calls sometimes and she always had encouraging words to say about my talent, however she understood exactly how this business could be and was to any aspiring jazz vocalist. At some point it was not longer about whether I'd "make it" or not. I just sing because I'm a singer. 
I'm not sure what other songs I sang that night but like Nancy I'm inclined to introduce my songs with a little story about the song out front. I could easily have been going through something that I was singing about at the time and Nancy had a little chat with me. She said I was giving the audience to much information as she could tell I was getting emotional. After that chat, I thought about what she said and in the middle of my sleep one night I wrote this poem. This is NOT what Nancy told me yet it inspired a feeling for this particular poem:
"NEVER LET `EM SEE YOU SWEAT"
 (This poem was inspired by something Nancy Wilson said to me) 
Push 'Em Up When They're Hanging,
Strap It In When It's Loose
Dust It Off If It's Dirty 
Bartender, Bring Me My Juice 
Wear A Smile, All The While 
There's A Knife In Your Heart 
Drink A Bottle Full Of Pepto
When All You Need , Is Just To Fart 
Make The Ladies Want To Be You 
Make The Men, Dream Of What They Could Get 
Girl You Better Pull Yourself Together
And Never Let 'Em See You Sweat
If You Don't Have The Time To Shower 
Take a P.T.A. Instead 
Missed Your Appointment At The Hairdresser
Put Some Gel Up In That Head 
You're So Tired That You Forget The Words
Well, You Better Scat The Blues 
Get On That Stage, No Matter What 
You Have Got To Pay Your Dues 
Sing Your Ass Off For A Dollar 
Or 50 cents And A Dollar Bet 
But If You Want To Be A Diva 
Never Let Them See You Sweat 
So Push "Em  Up Girl
Strap It In, Dust It Off, And Wear A Smile 
If You Can Hold Out Long Enough
If You Can Travel Many Miles
I Can't Say What Your Reward Will Be
Along The Way, You Might Forget 
But The One Thing You'll Remember 
I NEVER LET 'EM SEE ME SWEAT
 ------------------------------------
On yet another tour in Japan Nancy was performing at the Play Boy jazz festival. I was there with Benny Green as he was on the bill as well. At some point in the evening Nancy and I were hanging out and took this picture which I've always treasured. The funny part about this picture to me is that I thought I was a grown woman at this stage and Nancy makes me appear to be a child. I have always been humbled by her talents, her beauty and her humility as well. She always treated me like I was just one of the girls. I could never imagine why. She has got to be 18 to 20 years older than me.  I believe her career was beginning the year I was born. This is one of my favorite pictures.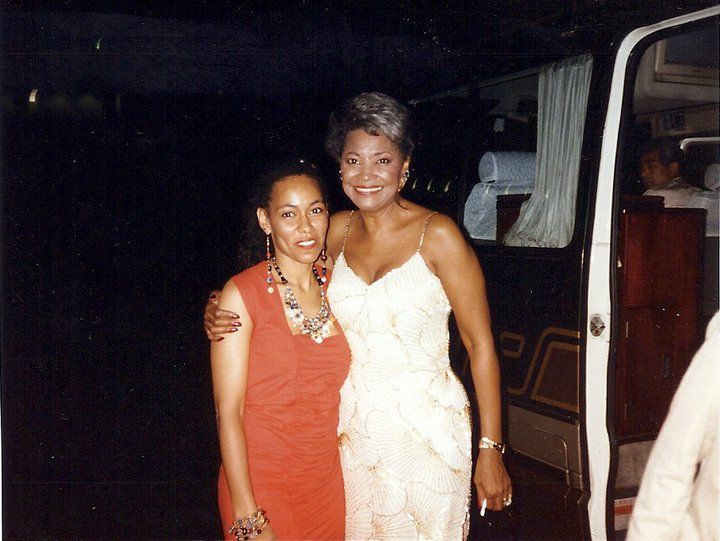 One another time I went to the Blue Note Tokyo to see Nancy and she was going through some personal loss. I believe it had to do with someone like her father dying or something. I just remember it being some tragic personal loss,  but something that was expected yet inevitable.  I could tell that she was going through something because she cried on stage. Then I realized it was the first time I had ever seen her like this. It was so touching that she had me crying too. As artist we always have to get on stage no matter what. The show must go on no matter what. I started to imagine just how much Nancy had been through in her life. I never really saw her sweat. She always looked like and sounded like perfection. This time she was just special because it was as if she was sharing the energy of her loss with the audience in a way that touched us on a human level far beyond just entertaining us.  I imagined I was not the only one touched.