I had moved to New York in February, 1986 after visiting for the first time on New Years Eve. My first visit was December 31,1985 and I stayed for 10 days.  I spent that entire 10 days hanging out and sitting in at jazz clubs with my friend pianist Benny Green. The hole time I don't think I saw much daylight as we'd hang out till 4am, get to bed 1st thing in the morning and then wake up way past sundown. The whole time reminded me of that song "YOU'RE BLAZE".
You're deep just like a chasm
You've no, enthusiasm
You're tired and uninspired
You're blase
Your day is one of leisure
In which you search for pleasure
You're bored when you're adored
You're blase
While reaching for the moon
And the stars up in the sky
The simple things of normal life
Are slowly passing by
You sleep, the sun is shining
You wake, its time for dining
There's nothing new for you to do
You're blase
While reaching for the moon
And the stars up in the sky
The simple things of normal life
Are slowly passing by
You sleep, the sun is shining
You wake, its time for dining
There's nothing new for you to do
You're blase
Songwriters
Ord Hamilton; Bruce Sievier
Benny had a little gig every Monday night at a small club called Pats in Chelsea. I played with the band while I was here and the owner asked if I wanted the gig. I told him I didn't even live in New York. He told me if I ever moved to NY that the gig was mine. I went back to Dallas, and paid off my car note, had a garage sale, then packed my bags. I moved to New York before I could talk myself into changing my mind. At the time I had only one gig, one night a week in Dallas. Jazz tends to go in and out of fashion in Dallas so venues come and go. With an offer for one gig one night a week in New York I felt like it might be a good enough excuse to make some changes.
A faithful jazz fan from Pats in Chelsea was a freelance writer.  Stuart used to come in every single Monday and listen to us play. He watched the audience grow at Pats in the first month that I was there regularly.  I got to know Stuart just as a fan, so when he asked to do an interview I didn't really put two and two together until I saw the paper. It was a nice sized article in the New York News Day that graced the window of Pats for quite some time. I'm not sure who put who on the map but everything seemed to be in divine order as the place filled up for a while. I'd meet people who said that they heard about me. I'd often reply, I'm not sure if it's me you've heard about since I just got to town. They'd always reply then it's you.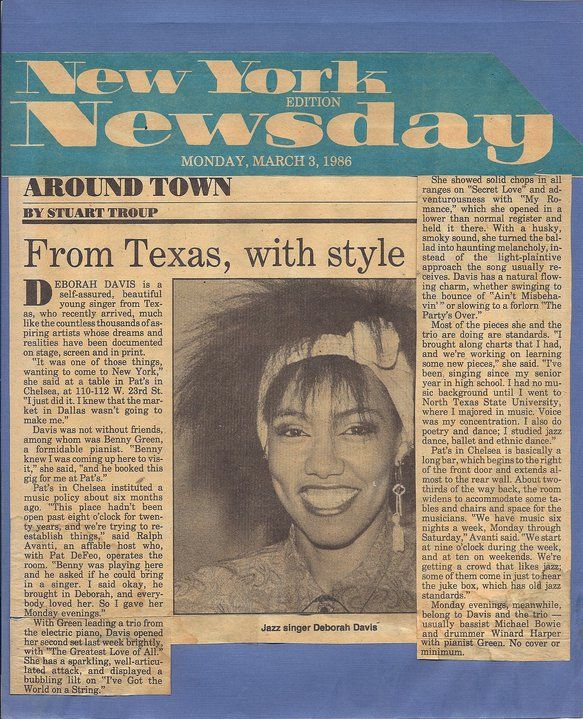 Aside from Pats in Chelsea I was picking up as many other gigs as possible in that first month here. I met a trumpet player Bill Kennedy who was a room mate of a college friend. Bill immediately started hiring me on his gigs on the chitterling circuit.  I have to confess those juke joints in the Bronx were a lot of fun. Thank God I came from Texas and knew how to sing the blues.   I was capable of doing 9 gigs in 7 days and still not having enough money to pay rent. I was not used to living off of anyone as I had been on my own since age 17,  but was grateful that Benny had let me crash until things got better. I had no real understanding of how expensive New York was compared to Dallas until after I was already here. It was to late to turn back not. It was a sink or swim situation. I told myself I'd better learn to swim.
I was hanging out a a place called Carlos 1 because I knew Clark Terry was playing there. I had met his bassist Marcus McLaurine so I thought I'd drop in. I also knew that 2 of my best friends in college had played with him at some point. Clark was always good about teaching young musicians and taking them under his wing. I went to talk with him and told him my friends (bassist) Peter Dowdall  and  (drummer) Michael Baker had played with him while we were all in North Texas. I told him I was a singer and before you know it he was inviting me to do a week with him at Carlos 1. Of course I was elated and welcomed the challenge. I got my charts together and showed up for the hit. It was a lot of fun and I remember the band was saying that I swung like Betty Roche.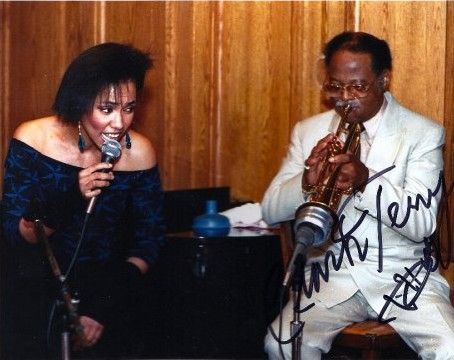 Stuart Troup who wrote the previous interview seemed to be more more excited than I was that I'd be singing with Clark Terry for a week. I thought he wanted to come interview Clark but he insisted that Clark didn't really need any more reviews, he was Clark Terry already. He wanted to review me. I"ll have to find a copy of the review, but I had written to the paper and they sent me a copy of the photo as I told them I'd love to have Clark Terry sign it for me. They mailed me this copy.
Funny thing about this gig. Clark asked me to sing with him but told me to negotiate my fees with the Club owner. Unfortunately I was never paid for the week long gig and ended up taking the club to small claims court just as a matter of principal. That's when I started to say, yea, I guess I do sing for free, I only charge for the amount of bull crap I have to go through surrounding the gig. After filing the small claim I still didn't get a dime. Not even after calling the marshal who said he could never find the guy.


I saw Clark Terry many times after that, mostly at the Blue Note . Then there was one time I ran into his band in Spain.  Singing with Clark Terry has been one of the highlights of my career. I was really sad to learn of his passing last year. May he rest in peace.